The rules for re-opening of caving cottages require that each group of people use their own shower space. Unfortunately, at the Croydon CC cottage, Godre Pentre, there are only two showers, somewhat limiting possible usage so I have rummaged around the garage and have devised the Cummins 'Go anywhere shower'.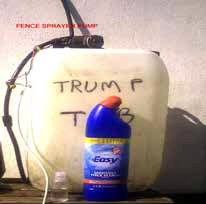 The shower is powered using two of the ubiquitous Kirby six pack F-cells, on top of which is the fallback short to ground safety device (an empty can of Guinness). The shower pump is a repurposed fence sprayer.
The liquid is added to the 'Trump Tub' at your preferred temperature and the required amount of thick bleach added.
Also available is an additional sanitizing solution that I found in a box of model aeroplane engines marked 2-4 Dinitophenyl (rest illegible). I'm assuming anything with phenyl in its name is bound to be antibiotic!
The shower head came from my Aegean sailing solar shower, I will not be using that this year. The flexible plastic pipe was discarded by a vet after some sort of 'procedure' to my sister's horse and looked too useful to throw away.
The condom packs are so you can operate in the required 'Boris bubble'; you roll one down over your head and inflate it to provide protection from the bleach etc.
The whole 'device' is easily dismantled and taken to a different area for use by another person or group. There was going to be a YouTube video of it in use but unfortunately the 'volunteer' had consumed the rest of the Guinness cans and after successfully inflating the 'Boris Bubble' suffered a serious gastric reflex episode which is too ghastly to publish! The camera operator also had to 'RLF' to escape the rupture of the 10 for £1 condom!